This is a post I had written somewhere in early October or even before but did not have enough space to post this because the Oil justice campaigns by War on Want had just begun.There is an alternate genre of musicians who sing country,country rock,indie,blues,jazz,psychedelic,prog and so on in the western world,at the least.There is something very democratic in musical genres like a section of country emphasised by humanists,in fact that was the way how the American Civil Rights and anti-war movements found reach in the mid 1900s.There was an entire group of these people; including Pete Seegar,Joan Baez,Bob Dylan and priorly singers like Paul Robeson and Harry Belafonte.
There was something quite similar happening in Bengal in the late 1960s to the 1990s.It was more connected to say,anti Vietnam war than the civil rights movement and subsequently to the radical leftist Naxalite movements led by students,intellectuals and thinkers at that time.This continued till the wretched year of 1990,which began to mark the end of the Cold War towards something not good at all,not at least for the people worldwide.And subsequently from right after that,music relating to social change have often been overstated by pornographers like Enrique Alonso or Katy Perry.This is a kind of propaganda 9/10 people fail to understand or comprehend.
There still is a huge number of litterateurs who are not to be fooled by these propaganda but the number of musicians in West Bengal,which I being a non-radical,free thinking Indian (before being a Bengali) would say is just unacceptable.I mean,West Bengal has more progressive intellectuals than in any other part of this country (and not to mention the top chit fund creators.Kudos to micro-financing.Sighs.) but it is still kind of strange that after Salil Chowdhury,nobody created music as fine as he did for a long time,until Kabir Suman's appearance delighted us all in the 1990s.That delight too,though,has faded a lot.
Not sure if I have the ardent,orthodox policies as most Bengali people do,who consider themselves superior compared to other races,sometimes for a good reason and sometimes for no reason at all.I agree this race is somehow superior in terms of intelligence compared to other races but this does not apply as a general rule.So,it is not like all Bengalis are oh so intelligent and everyone else is a fool.This type of mentality is so derogatory for any individual or community.But we have a refined,superiorly refined culture than most of the other north Indian states and I do not know if that is due to the geographical location,anthropology or any other reason but this does apply.I can bet there is no other state that talks about American country music,Classical music,Humour in music,Love music,Bengali folk music,Bengali contemporary,a lovely western combination with the indigenous Bengali style that is neither pure Hindustani Classical Music,nor pure Carnatic music but a beautiful,refined,bold and substantial combination of both of these genres,western music,American country,Rock N' Roll,'Ganasangeet' (which is like,music of the people) and a lot more.So,stereotypical people whom I have met with before claiming,"Do you listen to anything but Rabindra Sangeet (Tagore songs)?"The answer is I have listened to 50 more genres,at the least and at least 15-20 of that is out of Bengali Music.
Now,comes the list.So,who do I crown?I have no confusion about this at all,let me specify.And I love this person's music more than I love Tagore's works,often.OF COURSE I HATED HIS RECENT POLITICAL AFFILIATION with the worst political party ever created in West Bengal but art and artist are two different planks,though legends like Bob Dylan or Joan Baez have long erased this demarcation line.Anyhow,considering this person sometimes skipped crediting other musicians and even Dylan himself,he is the only Bengali artist who I know to have surely worked with Pete Seegar and his music is everything dissimilar to the person he is.It is honestly amazing.Amazingly modern,covers amazing topics,consists of amazing,amazing,amusingly amazing lyrics and sometimes pretty tunes as well.Yes,it has to be Kabir Suman aka Suman Chattopadhyay. No matter who he is,what he created is insanely beautiful.Not to mention his sweet yet bold voice.It sounds sugarly in higher scales but has a touch of a deeper baritone that makes it unique.
Crowned 1st favourite in Bengali Music : Kabir Suman

♔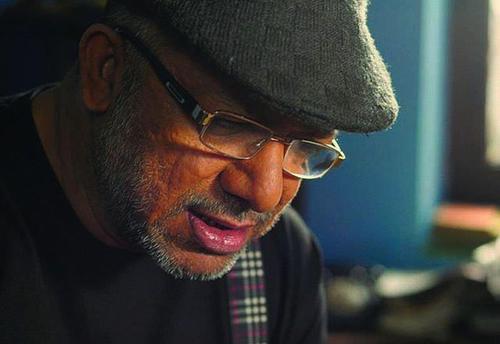 Favourite tracks include : 'Cactus','Biday Porichita'(Bengali version of 'Farewell Angelina'),'Ekta Thalay Charte Ruti','Parar Chotto Park','Tomar Kathar Rong','Tomake Chai' and many more.
You could listen to a lot of his music (and not ramblings about himself or his political analysis on +KabirSuman DOTin or at Twitter.)
Second favourite Bengali Musician : Ranjan Prasad
With Mr. Pete Seeger in a concert at Nandan complex, Calcutta in 1997.
I first got to listen the Bengali Version of the legendary Jamaican Farewell sung by Harry Belafonte back in the late '50s.The Bengali version is called '
Pather Prante Oi
' and it fared quite intoxicating and attractive for me.It intrigued me into listening further songs and though I have not discovered any other song to be even the close equivalent of this particular song,Ranjan Prasad's attempts to bring in Bengali the tunes of country music and the distant but relative Vietnam's red,the American civil war movement and a combination of the music of 'the black' and music of 'the white',something brought in a revolutionary way in the States by Bob Dylan,which erased the dividing lines between cultural discrimination to a vast extent and similar attributes is what makes him truly special.After Pink Floyd,this is the guy I find to be an amazing architect musician!